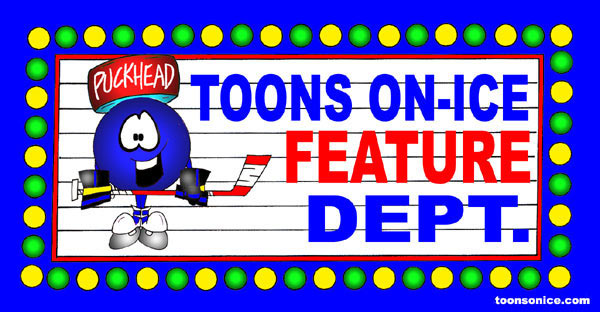 Here we present a humorous hockey
look at life TOONS ON-ICE style!!!


Lets play Americas favorite TV game show "Let's Make a Deal ON-ICE!" Will Anna Nicole Smith choose the crusty old Ref and the cash? Or will she take what's behind curtain number 3 and drop her jumbo hot-dog? What would happen if your million dollar game show jackpot depended on the final correct answer of a Canadian hoser Ref on back bacon?

Presenting the Top 10 reasons Hockey Refs make bad TV game show contestants!


Monty Hall drum role please...

10. They can't see the wall puzzle...
9. Only Refs, George Bush and James Brown don't know what a vowel is...
8. Whistles are not allowed on Game Shows...
7. They spin the prize wheel the wrong way...
6. The game buzzer signal makes their hearing aids buzz...
5. They keep calling their mothers...
4. Vanna's hooters distract them...
3. They keep trying to adjust the time clock...
2. They failed Scrabble 101...
1. There's no food!!!


Do you become religious when you experience a blazing 100 mph biscuit? Like Granny always says, "Toes are for tappin', mouths are for yappin', ducks are for quackin', and pucks are for slappin!" One things for sure, when Jesus comes back from resurrection, he's going to take that blonde with the big hair on TBN ice skating for all her hard work and hair spray!

Presenting the Top 10 reasons to Praise the Biscuit!




The New Pope drum role please...

10. It beats praising a bowling ball...
9. Pucks are holy relics to a Deacon Moose...
8. Ozzy thinks vulcanized rubber is safe sex...
7. Saints fire biscuits before morning prayer..
6. They are forgiven when they cause a head wound...
5. Canadians pass pucks in church during communion...
4. We need to pay for the satillite eh...
3. Ice is really holy water with stripes and circles...
2. Pope John Paul had a wicked one-timer...
1. Pucks don't have big hair!!!





Ah, another peaceful day at NHL Bikini Bottom as Spongebob Goodenow and Squarepants Gary perform a drive-by in their Crabby Patty Mobile!


Presenting the new NHL Spongebob theme song TOONS ON-ICE style!



Squigworth drum role please...

Are you ready fans?
Aye Aye Captain!
I can't hear you!
Aye Aye Captain!
Oooooooooh...
Who lives in an ice rink under the sea?
Sponge-Bob Squarepants Gary!
Hanus and yellow and greedy is thee!
Sponge-Bob Squarepants Gary!
If corporate clowns be something you wish
Sponge-Bob Squarepants Gary!
Then fall on the ice and flop like a fish!
Sponge-Bob Squarepants Gary!
Sponge-Bob Squarepants Gary!
Sponge-Bob Squarepants Gary!
Spooooooooooongebob...Squarepants Gary!



Did a group of loud mouth Referees from Up State Harlem get a street named after them called Fartin Luther King Blvd.!?! If Refs gathered in front of the White House for a rally unity march, would they gather for more rights for the blind, or for more Krispy Kreme Doughnut Shops in their community!?!

Presenting the Top 10 reasons to never join The Million Ref March!



Mayor McCheese drum role please...

10. No one would show up...
9. You might get hit with a giant whistle...
8. There are no Burger King's along the marching route...
7. Homeland Security would be two seeing eye dogs and a homeless crackhead...
6. Lens Crafters wouldn't sponsor them...
5. You might step on someone's coke bottle glasses...
4. Lou Dobbs would report them as illegal Mexicans...
3. Authorities would think there was a wild zebra zoo escape...
2. Refs don't deserve equal rights...
1. It's too stinky!!!



Is ESPN's brass section as out of tune as Eminem singing Christmas Carols!?! ESPN used to be the world wide leader in sports, now it's the world wide leader in comedy because there's nothing funnier than College Cow Racing instead of NHL Hockey!

Presenting the Top 10 reasons ESPN rejected the NHL's final TV contract offer!



Bucci drum role please...

10. Micky Mouse is on crack...
9. Barry Melrose's hair gel bill was too expensive...
8. They don't actually watch the games...
7. ABC was zealous that a Hockey Mom can kick a Desperate Housewives ass ...
6. They can't rival Outdoor Living Networks Canadian Moose Hunting Show...
5. Stuart Scott couldn't pronounce players last names...
4. ESPN is about as faithful to hockey as Martha Stewart is to her Walmart cooking spoon...
3. The bosses wife is into Celebrity Poker instead of Jeremy Roenick...
2. ESPN has a new sport called total incompetence...
1. Smaller the ball, higher the I.Q.!!!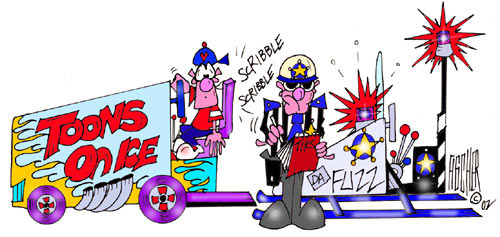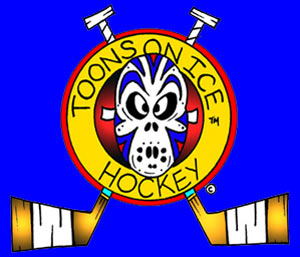 ORDER TOONS ON-ICE GEAR
Hockey Merchandise Headquarters
FOR MORE INFO CONTACT: Michael Fischer at [email protected]

©1998-2006 Toons On Ice Hockey
Website Design & Maintenance by Tony Gerber at Space for Music Online
TOONS ON-ICE Hockey CEO-Artist-Creator Michael Fischer Image Copy right