SUMMER 2012


Greetings Hockey Fans!!!

Got puck? It's time to lace up your summer skates and cure your hockey hangover TOONS ON-ICE style!!! Just beware of the Hockey Granny flying through the neutral zone wielding her Barney Pool Float on the powerplay!

Lord Stanley's Cup is celebrating this 2012 Summer Solstice beach surfing in Southern California with an In n' Out Burger on one side and Pamela Sue Anderson on the other which ironically is what Coach Dad would like to be doing. You gotta love hockey! The crowds! The excitement! The hot-dogs! The cartoons! The cartoon hot-dogs! The ice-girls! Swiming pools! Movie stars! The Beverly Hillbillies love hockey so much, Uncle Jed just bought Jethro his very own food concession stand and signed him and Ellie May up for Wayne Gretzky's hockey camp!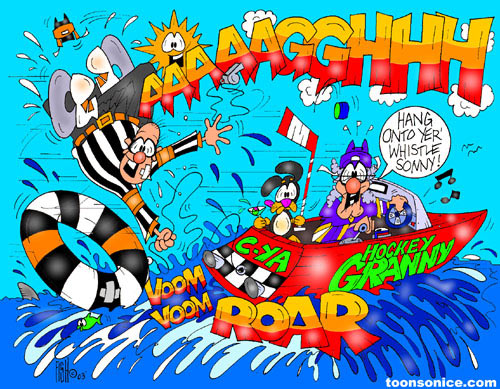 Is that hockey love we smell in the air? No, it's just Coach Dad at the rink concession stand ordering twelve cheeseburgers with extra ketchup! All true hockey fans know that the true science of navigating a good ole' hockey game is juggling your card board tray full of hot-dogs and steamy nacho's without spilling relish and mustard on the big biker hockey fan seated below in front of you! All true dedicated hockey fanatics also know that hockey is not for your average sports fan, it's an aquired taste designed for the family member who has too much passion to sit around and wait for the Ref's to drop the puck! ( And thats just the family dog )

Some great ways to spend your summer day off ice are ~ Rollerblading your dog in the shade, body checking the park mascot dressed up like Kool Aid, and buy up all the Krispy Kreme Donuts before the Ref's get there! The greatest thing you can do all summer is adopt a cute puppy dog and name him after your favorite hockey player. Then take him to the beach and score because he's an ice girl magnet.



So what's new ON-ICE? Did the Hockey Gods invent baseball to cure their hockey playoff hangovers? If Hockey Day in America rocks, then what does ESPN Poker do? What happens to all the hot-dogs when the NHL has a lock out? Did your dog steal your Puckhead Hat and i-Phone and order a Zambni on QVC? Will Coach Dad ever aquire a pizza and coffee endorsement? If there's an ice age coming, does that mean Hockey Highlights will finally be on the six o'clock news first? Will Mom's Mini van ever be inducted into the Hockey Hall of Fame next to Wayne Gretzky, Bob Miller and Bernie Parent? And will Apple ever create a virtual i-hamburger app for Youth Hockey Goalies on the go? Well, Coach Granny can only hope!

Now hit the ice and go grab some 4th of July BBQ for your good old Coach Dad!


ICE MISER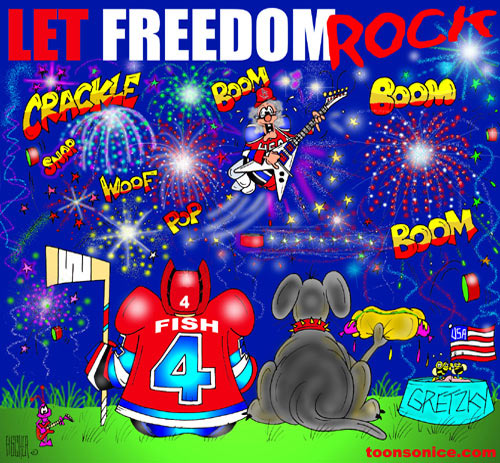 Please help our friend JAMIE SIMMONS Recovery Fund
Click here to donate or leave Jamie a kind message.