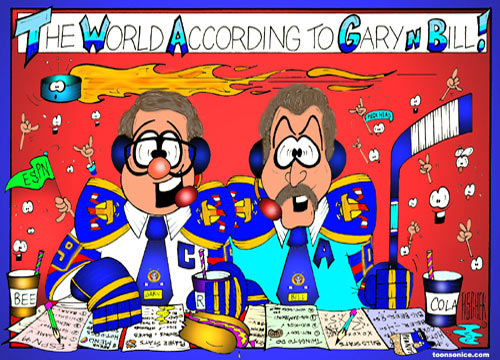 "Michael Fischer rules!" "He is only artist I know capable of capturing
the energy, the emotion and the humor of our great sport hockey."
Bill Clement - NHL Hockey Announcer and 2 time Stanley Cup Champ!



Toons On-Ice Hockey are #1. Thanks, Sid Joy of Hockey...

Michaels toons are wicked! Kristen...

I think Michael's cartoons are just GREAT! So now I am really hooked on hockey. Thanks again. Verna ... NY Isles Ice Girls Mom...

Thank you, your cartoon will make a nice edition to my baby's nursery. Candice, Casper WY,...

Thanks for the mug! its awesome!!! thanks so much for the phat picture too! i will frame that and cherish it for all my days remaining. thanks again. you made my week. Panger loved the cartoon. he was rolling in my cubicle!!! all the best, John Buccigross ESPN Hockey...

Michael's site is terrific, well done! Rich De Lisle, Publisher and Founder The Junior Hockey News...

Great pictures, MAN can Michael Fischer draw :) I am a Coach here in holland , teaching the kids aged 4 till 7 the basics and fun of playing of hockey. Keep up the great drawings :) greeetz from the netherlands...

Got the Ranger Column Cartoon. I LOVE IT!!!!!!!!!!!!!!!!!!!!!!!!GREAT JOB!!!!!!!!!!!!!!!! IM GOING TO THE RANGER GAME TONIGHT! AWESOME JOB! John Buccigross ESPN...

Thanks for the Christmas cards and happy to hear you're pushing forward. Congrats! Love the website! Nicely done. Happy Holidays, Bill Clement... ESPN Hockey Announcer...

Regarding your cartoon this month, That's outstanding! Sherry Skalko... NHL Editor ESPN.com...

Mike's drawings are awesome! Rob Barletta Hockey School Boston. rb.hockey.com...

Your website looks awesome, I have a hockey website at glassrattler.com. Id like to show my members your awesome toons.Thanks Devin...

Michael, You' re a genius! Terry Bluejacketsfans.com...


Michael- I love your great work! Cammi Granato USA Hockey Womens Team Captain...

I work as an intern for the National Hockey League in the Diversity Task Force department. First, let me say I am very much impressed by Michael's work. I think it gives a fun look to hockey, along with some very creative art work.Sincerely Nathan NHL Intern...

Your affiliate program looks great and could add excitement to our web site. Dean Perry SiS Sports Pools St. Albert, Alberta, Canada...

Love your work ON-ICE! James E. Stoller President Nice Rink Outdoor Rinks nicerinks.com...

Keep up the great work on your site. Sincerely, Juha Webmaster NKnet...

Hello! I like your website! Best regurds, Marina. From Russia with Love...

Toons Xmas Cards ROCK! Matt Breakaway Magazine...

Your cards went over big time last year!!! Shari Gulley Washington Capitals...

I purchased holiday cards and plan on ordering more for this year! Julie LA :) ...



Just wanted to say thanks for the Christmas greeting! That cartoon is so cute - perfect for us hockey fans! It was so kind of you to think of us! My husband Mick is still fighting over in Kuwait - things are on edge with all the activity and buzz in that area. I have your card on my refrigerator - it makes me smile whenever I see it! Happy Holidays, Jessica RN...

The cards look great! Thanks! Laura Dallas Stars Merchandise Dept...

I order Toons on Ice Hockey Holiday Greeting Cards every year and I live in Singapore. Jacqui ...

I was just searching tonight and ran upon Toons on Ice and my curiosity got the best of me. I love your drawings! EXCELLENT! MIke's cartoons are the best! Thanks for sharing them on the web! Melahni...

I received my christmas cards today and love them!! They're the best!!! Nice dealing with you, Marlene...

First, I'd like to say how much I enjoy your comics. They really capture a lot of the humor and irreverance that makes hockey such a great sport. Keep up the great work! Alan...

We got our Toons cards and they rock. Love the autographed posters too! Michael's the best! Rhonda...

My wife and I love Toons hockey holiday cards. Jack Scottsdale, AZ...

Hi Michael, I love your cards with Santa and the one reindeer playing hockey. Keep me updated because I am a ''hockey mom'' . Thanks so much! Brenda NY...

Dig the Avalanche xmas cards. Love your work and I love the t-shirt I ordered from your site. Thanks! Ron..



The new Xmas Cards are here!!!!!!!!! These are great. I can't wait to get these ready to send out. My hockey friends will LOVE them!!!!!! Take care Jen...

This website kicks ass! I love hockey it's my favorite sport. Thanks Robert...

Your cartoons are awsume! I am interested in purchasing several of your items. Irma Santa Teresa, NM.

I am one of the Pepsi ice girls from Nassau coliseum. The cartoon you did for us is greatly appreciated. It is so nice to hear that people appreciate us. Thank you for all your time. Lauren.

Your stuff rocks!!! I just found it thanks to a message on fan home. Gotta have one of your t-shirts!!!

I love this website. Im half-baked Texas hockey fan who loves and spends way too much ofhis hard-earned money watching the Stars, and CHL hockey, Rick Texas State University

John Maclean is my cousin. The "Grumpy Old Men2" prints arrived safely and they look fantastic. Thank you very much for packaging them so well. Thanks again and take care. Andrew. Toronto Canada

I just wanted to compliment MIke on how good he is at drawing! Invasion 2003 really rocks! It's so cool how Mike just keeps on fighting to get his stuff published by the NHL. peace out, Cotey.11 years old...

I was browsing for some good P.J. Stock photos the other day when I stumbled across Mike's cartoon featuring P.J. Stock in the Box. I must say that I was amazed at it, it is possibly the best piece of hockeyart I have seen in a long time. I can't believe how fast Mike replied, it's nice to know that someone still cares about their fans. Thanks Again. James.

I loved Mike's Hurricanes cartoon and requested a signed artist print. Jim Cain VP Carolina Hurricanes...

I just got e-mailed Mike's cartoon on the great #8 and wanted to say thanks....As a life long bruins fan (all 32 years) I just wanted to say it's about time that someone finally recognized the talent that we were fortunate to see in Boston. Mike Rhodes Designer Engineered Fabrics Corp...

I just saw this site. I think your art is really amazing . I am a huge hockey fan as well as a muscian , so your cartoons are very appealing to me. I'm sure you get 10'000 e-mails a day - but I like giving credit where it's due. Anyway I bookmarked your site . I'll be coming back again. Thanks for reading, Milos...

What about the women hockey fans! I mean I don't like watching some fit ethusiastic girl with bleached teeth and a belly ring yell GO CANES! we need male cheerleaders! Love, an Avs fan Kendall Casper Wyoming...



What an awesome website. Michael Fischer is truly an artist. Dave, West VA...

I was just surfin' this web site. How Awesome! Love the Cards. Ron Burbank, CA...

I'm a parent of a minor hockey league player, I've been surfing the net and came across this great website Todd Nickerson...

I am a representative of Florida Youth Hockey Club. This is a great website I happened upon! Debra...

I have made Toons On Ice.com website a "favorite" on my browser and will spend more time there later in the week when I get my cable modem. Pete Weber Predators Announcer...

I am the Co-Chairman of the Kensington Hockey Parents Club and I happened to come upon your website in a search I was doing. I think your cards are very cool. Luanne...

I think Michaels cartoons are wonderful. Mims, SC...

I would like to do a special UK feature on toons on ice and would like to showcase 3-4 cartoons on the site along with a feature article. Thanks in anticipation of your help Neil puck-in-the.net...

Michael Fischer is the O' king of toons! Doctor Johnny Puck... ipucku.com

Christmas Card Feedback has been great! Everybody loves the cards. Jim Nice IMG Hockey...

Mike's cards are a fan favorite in our store. LuAnne Retail Operations Manager Incredible Ice FLA...

I checked out this website and really enjoyed it. Always glad when fans like the Pepsi Ice Girls, too. Sincerely,Brad Preston Manager, Game Operations & Events NY Islanders...

Saw your website. quite impressive! Dayna...

This website site looks great! I am so impressed! Timothy...

My brother plays for the Dallas Stars. I was looking for a picture of a hockey player who is missing teeth for my brother who got some teeth knocked out and Mike hooked me up. What a great guy! Ryan...

Im captain of a roller-hockey team from Germany called Scorpions Ludwigshafen. I just recently visited toonsonice.com. Amazing website and you´ve chosen the best subject: hockey. Greetings Ruediger...

I am interested in seeing more of your hockey cartoons animated! Jenny, LA, CA...

I hope you enjoy these TOONS as much as I have. I love this website. Keep up the great work. Lorri

I run a British Inline Hockey Club called the Wigan Warlords. This website is the best! Cheers. Chrisy

I'm a hockey dad in Detroit ( Hockeytown! ) I enjoyed Michael's site. How'd he get to know all those famous people? Rich

I came across Michael's website and thought his illustrations are distinc and original! Great website! Alan...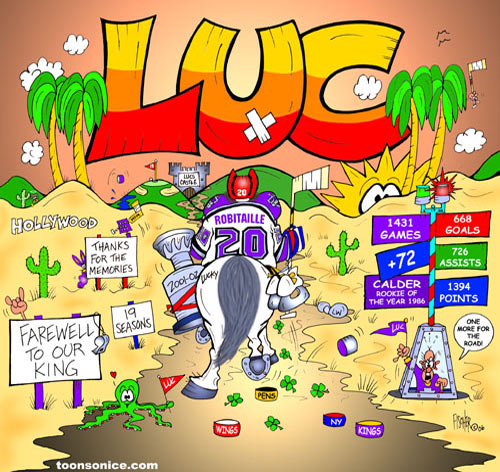 I'm a Minnesota Hockey mom and I love Michael's cute hockey cartoons! Beth...

I coach Bantam AA here in Edmonton, Alberta Canada for the last 20 years. I have done alotof different types of fundraising but I never seen anything like Michaels cards. They are great ! Jim...

TOONS ON-ICE Hockey greeting card fundraiser is the best! Thanks, Holly Director Brevard Ice Hockey.

We really love your March cartoon. I'll keep checking back for more great cartoons! The Hockey Phreak...

Just checked out your site...Wow! Excellent stuff! Ron Hockeyrage.com

I featured one of Michael's cartoons on the front page of my website. Dave hockeytournaments.com

I saw your website and was impressed. Drake San Jose, CA...

I saw your cartoon page and truly enjoyed it. Jay DeMarco, creator of Small Saves Comic Strip...

I think Michael has a great website here! I bookmarked it and I'll be visiting often.Thank you Marco...

I'm a reporter for FoxSports.com I was hoping to interview MIke about his cartoons. Jeff Houck FoxSports.

Loved Mike's Christmas Cards! Mike Barnett Owner Phoenix Coyotes...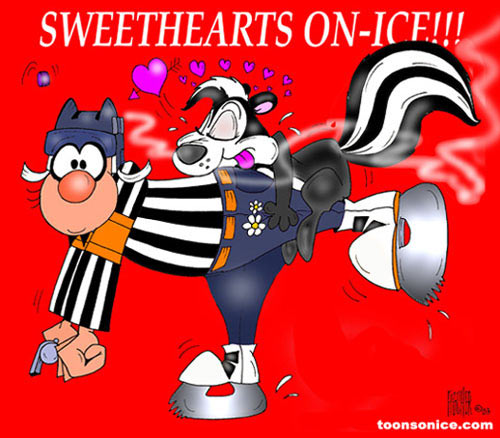 I was looking through some sports sites and came across this one. I am a baseball fan pretty much, but could not help but look through this site and enjoy the humourous side of hockey. Eric, Montreal...

I was impressed by the celebrity and depth of Michael's client page. Toons On Ice cards are clever and fill a void in what I offer. Best regards, Dennis...

I love this website I live in Boston! Hockeyman...

Wow! Thank you to Michael for the signed Hockey Fanatics Survival Guides for my kids. I may be placing another order because I have thought of a couple of others who would enjoy his work as much as I do. Thank you so much! Denise...

I got my Xmas cards today. They look great! Thanks for the extra cards also. Lori...

I'm a midwest Hockey Mom and the team representative for the Pekin Flyers. I just found this web site today and me and my kids love Michael's cartoons. He does excellent work. Thanks, Deb...

Caught this awsume website tonight! I am an Official and collect a lot of hockey memorabilia. Don, Ohio...

Your style looks great for the greeting card market.Jerry King Cartoonist Playboy Magazine...

I visited your www.toonsonice.com website. I especially like the ease of navigation on your site :)...

My son plays for a traveling team called the "Vipers" out of Mechanicsburg, PA. Super thanks to Michael for allowing of to use his cool Toons for our annual yearbook. Karen...

I recieved the cards today. Thank you! My son loved the autographed items you sent. Thanks! Brenda

Michael is the man! My cartoon prints arrived today and they are AWESOME! I am blown away by his talent and generosity in getting all of this done for my auction. Thanks again my friend!!! Ken Blake SlapShotfan.com



Thanks again for everything. The signed ESPN Prints look terrific! I really appreciate all of your help with our auction. I am really looking forward to getting to bid on the prints and cards and helping out 2 charities at the same time. (McCarty Cancer and Cheli's Children's Foundation). Joelle Ref Hater Beebe...

Michael is the best! If he's not married, I'll let him marry my daughter! Kathy Wing Nut Beebe...

We could not have done Stars Stripes and Skates 2003 WITHOUT Michael Fischers help! Michael is incredible! He truly is the greatest the greatest. Tara, SSS-9/11 Event 2003....

I got your package today. Your cards are so SWEET!!! Thanks again Julie...

I'm glad I found you! Already placed a hefty order at Cafe Press for assorted goodies of yours, loved them. Please add me to any e-mail list you may have to let me preview any other ideas you come up with. "Hockey is our life"...Thanks for adding to it...Lisa, Palm Beach Florida...

Mike - Loved the Gary-Bill toon! Bill Clement, NHL ESPN Hockey Announcer

I received the Christmas Cards and they look great! We already sold 4 boxes. Jennifer Borelle...Incredible Ice, Florida...

I was delighted to receive my TOONS sweatshirt!I love it! I shall be wearing it to the next Ice Hockey game. Cheers Pam, UK England...

You are too sweet! I just wanted to drop a line and thank you for the cards. I didn't know I was going to get a whole set. Very Nice! Jennifer Watson, "The Watsons Girl"...Watsons Pool and Spa Depot...

I ordered a 2004 calendar and a new lunch box. I love your stuff, it is so cute. The kids have a hockey tournament this weekend, it is real big out here in the west. Thank you so much for everything. Lynette, Tucson Arizona...

Keep up the good work we love your site!!! Pam, US Hockey Mom...

I was checking out the website. Please tell me there is a book with all those cartoons! If not, PLEASE MAKE ONE! Elizabeth...

Hello Michael,Thank you soo.... much for the awesome Christmas cards. Theresa, #1 WINGS FAN...

Awww...thanks, Michael. I appreciate that extra effort! You are the best. Andrea Hinchey, IMG Baseball.

Michael, Received the cards today! THEY ARE WONDERFUL!!!!!! I am sure that our Hockey Friends and Family are going to love them as much as I do! Hockey items are way to hard to find in my area! I can't wait for next years cards to be done, please let me know as soon as they are! Thanks for the bonus cards you sent along! Happy Holidays! Vangi, Hockey Mom...

We received your signed ESPN cartoon prints, Thanks! They were used in a raffle during our Thanksgiving tournament. Kelly Dinorcia, NJ Jr Devils...

Michael Did anyone ever tell you that you are the best thing since sliced bread? I got the package today and it is awesome! I can't wait to give mom hers for Christmas. Thanks again for everything. Merry 8 days 'til Christmas! -Joelle "Refhater" Beebe

Thank you so much! I just discovered your website this morning via a link on the Slap Shot-Louise Arters MS auction, which I learned about from my monthly e-mail from Drop The Gloves. Your cartoons are AMAZING, and as a major hockey fan (and a player on the only USA Hockey all female rec. league team in Georgia) (but not a hockey mom *wink*), I will definitely be ordering some stuff from your site!
Happy Holidays! Jen Brown...

Hi Michael, Just a quick note to say thank you and let you know that Jason loved your whimsical depiction of him. He has team and community awards that he's never bothered to take home, but when he left for home yesterday I was surprised that he wanted to take the picture home with him. Kevin the trainer got a big kick that he was included in the drawing and they all laughed when they saw the fork in his hand. Thanks again Michael for making me shine. Wishing you a merry Christmas and a safe, happy and prosperous New Year. Take care, Deb, House Hockey Mom Tri-CIty Americans, WA...