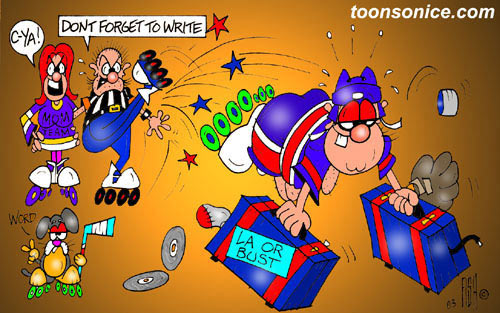 Are you tired of Metallica blasting from one end of your house? Do you live with a
reluctant juvenile who thinks "taking out the trash" is high sticking a Ref? Is your
phone bill higher than Keith Richards? Is the First National Bank of Dad closed???
Then you must be living with a teenage Demon who used to be your loving child!

We present our Top 10 list of Ways to Get Your Teenager to Move Out!

Mom drum roll please...

10. Take the door off their room...
9. Start every conversation with "When I was your age"...
8. Hold a garage sale in their bedroom...
7. Serve boiled codfish for dinner 30 nights in a row...
6. Walk around the house in your underwear...
5. Play Air Supply records all day...
4. Put Vaseline on the front door knob so they can't get in the house...
3. Leave a Canadian travel brochure in their room...
2. Hire an ugly maid that vacuums at 6am...
1. Trade em' to another family for a draft choice to be named later on!!!




We present the "ABC's of Hockey" TOONS ON-ICE style! ( Fan Version )

A. Stands for Anthem that's performed like skating cattle...
B. Stands for Badly as two teams prepare for Battle...
C. Stands for Center-Ice where the teams Converge to start...
D. Stands for Dumb blind Ref about to Drop the puck...
E. Stands for Excited crowd Eating like wild pigs...
F. Stands for Fans slarfing Food wearing Furry puckhead wigs...
G. Stands for Goalies Guarding their Goal cages...
H. Stands for Henchmen dishing out High-sticking majors...
I. Stands for Ice-Girls shoveling the blessed Ice...
J. Stands for Jabbering loud mouth fans yelling things not so nice...
K. Stands for Killer Kowalski skating on the attack...
L. Stands for goalie Leaving his crease and his coach yelling "Le' hurry and get back"...
M. Stands for Mascot, annoying, colorful and cuddly...
N. Stands for European player with No goals and way too many penalties...
O. Stands for Organ that fills up the arena between plays...
P. Stands for Pop-Corn and Peanuts and People who eat on card board trays...
Q. Stands for Quick player who's fast on the draw...
R. Stands for Red Light making the home crowd Roar...
S. Stands for Slap-Shot Some Star player Shot into the net...
T. Stands for Time Clock showing only seconds left...
U. Stands for Underdog who just scored his breakaway wish...
V. Stands for Veteran Goalie flopping in his crease like a fish...
W. Stands for Whacko team owner now feeling like a jerk...
X. Stands for X-Coach now looking for new work...
Y. Stands for Yelling as the crowd cheers the victory they have won...
Z. Stands for the Zamboni coming out to clean up all the fun...