TOONS ON-ICE HOCKEY
ESPN's HIT THE ICE Weekly Cartoon Feature 2003

ARCHIVE.....fall 2001......winter 2002......spring 2002......winter 2003......fall 2003-04
Holy Jumpin' cartoon catastrophe! ESPN's HIT THE ICE has HIT THE ICE!
Fan feedback email John Buccigross c/o ESPN NHL 2Night!
[email protected]
NHL All Star Weekend Highlights
Martin St. Louis Tampa Bay Lightning
3 Stars of the Game???

Lights, Camera, Action!!! ESPN 2's "HIT THE ICE" 2002 Season opener has
begun fans!!! So tell yer cousin Cooter to quit werkin on that there Dodge
and stand-by for another side splitting year of NHL humor ON-ICE! by the
worlds most dangerous hockey cartoon artist Michael Fischer and John
Buccigross of ESPN NHL 2Night. Skate by toonsonice.com for weekly updates
and enjoy an entire season of non-stop Roody Poo Smackdown ON-ICE!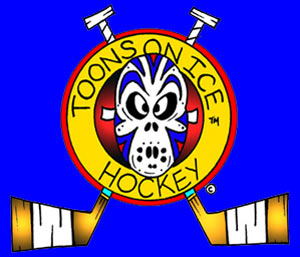 KILLER TOONS ON ICE GEAR
Hockey Merchandise Headquarters
WHAT'S NEW ON-ICE ... FEATURE DEPT. ... TOONS ON-ICE HOCKEY LEAGUE
HOME ... PUCK TALES ... GRANNY'S HOCKEY RECIPES ... LINKS
CLIENTELE DEPT ... PHOTO GALLERY ... LIL' PUCKERS CLUB
ARTIST VAULT ... AFFILIATE PROGRAM ... TOONS ON-ICE FUNDRAISERS

FOR MORE INFO CONTACT: Michael Fischer at [email protected]

©1998-2006 Toons On Ice Hockey
Website Design & Maintenance by Tony Gerber at Space for Music Online
TOONS ON-ICE Hockey CEO-Artist-Creator Michael Fischer Image Copy right