T'was the night before face-off and all through the rink,
All the Referees were partying and farting up a stink;
The hot-dogs were served by the concession stand with care,
In hopes that more Ref's soon would be there;
The little puckers were nestled all snug in their beds,
Whiles visions of game winning goals danced in their heads;
And Hockey Mamma in her morning coffee and I in my cap,
Had just settled down for a phat winters nap,
When out on the ice there arose such a clatter,
I sprang from the bed to see what was the matter.
Away to the window I flew like a puck,
Tore open the shutters and the window shade flew up.
The moon on the breasts of a new ice girls snow,
Gave the lustre of hockey night to all objects below,
When, what to my wondering eyes should appear,
But a minature Zamboni sleigh and eight tiny reindeer,
With a little old driver, so lively and hammy,
I knew in a moment it must be the infamous Hockey Granny.
More rapid than Viagra, her giant soup spoon it came,
And she whistled, and shouted, and called them by name;
"Yo Crasher! Now Stripper! Word! Now, Romancer and Sticks'n!
On Sock'em, C'mon Stupid, Yo Bonehead and Crackhead and Blitzen!
To the top of Granny's Porch! To the top of the wall!
Now skate away! Skate away! Skate away all!"
Thousands of hot-dogs fall from up high, as Granny's sleigh it starts to fly,
As she soars through the condiments and into the sky.
So up to the rink top courses they flew,
With the sleigh full of refreshments, toys, and a cell phone too.
And then, in a twinkling, I heard on our front gate,
The prancing and prowling of each little elf skate.
As I drew in my goal glove, and was turning around,
Down the chimney Granny came with a bound.
She was dressed in red gear from her head down to her cane,
And her jersey was all tarnished with mustard and relish stains;
A pair of new skates she had flung on her back,
And she looked like a crazy lady as she opened her pack.
Her eyes - how they twinkled! Her retro glasses how merry!
Her cheeks were like Guns and Roses, Her nose like a wrinkled old cherry!
Her funny little mouth was shrivled up like Jimmy Pages bow,
And the three hairs on her chin were as white as the snow;
The stump of her giant cooking spoon she held in her fake teeth,
And waved it around her head like a whacked out Christmas wreath;
She had a thin face and a little round belly,
That shook when she laughed like a bowl full of jelly.
She was wild and silly, a right jolly old elf,
And I laughed when I saw her inspite of my puckhead self;
A wink of her eye and a twist of her mug,
Soon gave me to know as she spilled her egg nog all over my dog;
She spoke not a word, but went straight to her task,
And slarfed down all the milk and cookies through her Friday the 13th goalie mask,
And laying her glove finger aside her old pink nose,
And giving a nod, up the rink chimney she rose;
She sprang to her Zamboni Sleigh, to her ON-ICE team gave a whistle,
And away they all flew like a puck out of the rink'izzle.

But I heard her yell as she skated out of sight,
Hockey Christmas to all, and to all... a good-hockey-night.

Now let's get some goals you Puckheads!

Hockey New Year!!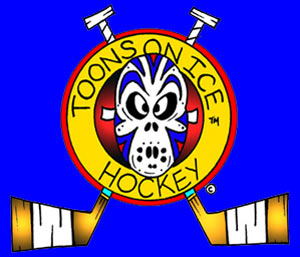 KILLER TOONS ON ICE GEAR
Hockey Merchandise Headquarters