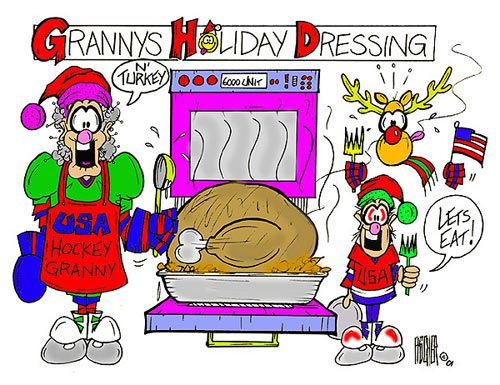 GRANDMA FISCHERS
Homemade Dressing & Turkey Recipe

Ingredients
2 Loaves Bread ( break into small pieces )
6 Onions ( tennis ball size )
6 Stalks Celery
2 - 3 Tbls. Salt
3/4 Tsp. Sage
8 Eggs
1/2 Cup Dried Parsley Flakes

Take gizzard, liver & neck from turkey or chicken. Fry in a couple tbls of shortening. After it starts to brown, chop 6 onions & 6 Stalks of celery & put in skillet with liver & gizzard & neck & fry for about 15 minutes. Then cover with water and cook about 30 minutes.

Tear up your bread in a big pan, add your 8 Eggs, Salt, Sage, & Parsley Flakes. Add a couple cups of water to kind of moisten it. Taste to see if there is enough salt and seasoning. ( You are not supposed to be able to taste the Sage ). After cooking the gizzard, liver, onions and celery. Add to the bread mixture. It should be real moist, enough so you can see a little broth around the edges. Stuff your turkey, or chicken & wrap in tin foil. Turkey takes 15 minutes to the lb. on turkey over 15 lbs. on smaller turkey bake 20 minutes to the lb.

1 hr before Turkey is done, I take a fork & reach underneath the turkey & poke a couple of holes in the foil & let the juice drip in the pan & brown. Then add 2 or 3 cups of water & that will give you your brown gravy. When you take your turkey out of the pan, thicken the broth with a couple or 3 tbls of corn dissolved in water.

This dressing can be used with pork chops served on top. Always bake dressing with foil over it so it doesn't get hard and crusty.

Grandma's famous Turkey & Dressing is ready to be served!!!