TOONS ON-GOAL
NFL FOOTBALL HOLIDAY GREETING CARDS


ORDER NEW SANTA ON-GOAL XMAS CARD SETS!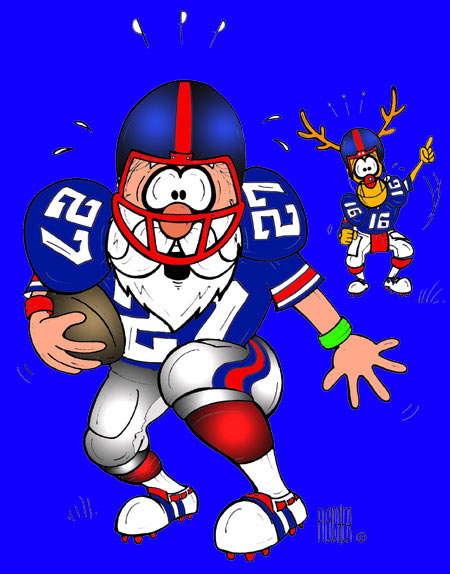 TOONS ON-GOAL 2006 FOOTBALL
GREETING CARD STYLES
VOTED #1 Cartoon Football Greeting Card by
Rudolph the Red Nosed Place Kicker

Order your killer cards NOW while supplies last!!!
All major credit cards welcome...

Only $12.99 per 6 ( 5" x 7" ) Card Set


NFL style, College, and HIgh School Holiday Football Greeting Card designs feature Santa Satire: The Tennessee Titans, Kansas City Chiefs, Green Bay Packers, Denver Broncos, Oakland Raiders, Tampa Bay Bucs, Pittsburgh Steelers, Minnesota Vikings, New York Jets, New York Giants, Dallas Cowboys, Detriot Lions, Indianapolis Colts, San Franciso 49ers, Chicago Bears, Philidelphia Eagles, New England Patriots, Miami Dolphins, Buffalo Bills, St. Louis Rams, New Orleans Saints, Washington Redskins, UT Vols, UCLA Bruins, Colorado St, Michigan, Navy, Army, Notre Dame Irish, Florida Gators, Nebraska, Ohio State Buckeyes, Alabama Crimson Tide, Texas Longhorns, Oaklahoma Sooners and Missouri Tigers!

For more information contact [email protected]