INVASION 2004 Is About To Begin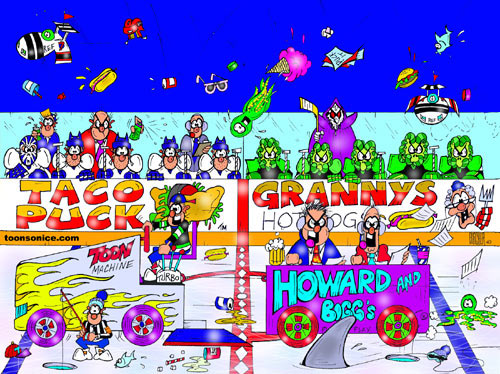 2004 TOONS ON-ICE COMICS INVASION...

Puck date year 2112... Aliens have invaded Pro Hockey ON-EARTH. Will the
game become faster? More fights? Less fights? Better hot-dogs? Will
Zamboni's be replaced by flying saucers? Will whistles be replaced with
laser guns? Will team owners be replaced by whimsical cartoon characters?
Will Aliens endorse Canadian beer commercials? Of course there's always the
hope of Referee's becoming extinct. One thing is for certain, Hockey will
never lose it's poise, character, cheesy anthem singers and the publics
addiction for the sport. Long after all your favorite hockey players are
retired, even in the year 2112 you'll be able to depend on a killer game
hot-dog with extra mustard and relish!


ORDER TOONS ON ICE GEAR
Hockey Merchandise Headquarters

FOR MORE INFO CONTACT: Michael Fischer at [email protected]
©1998-2003 Toons On Ice
Website Design & Maintenance by Tony Gerber at Space for Music Online