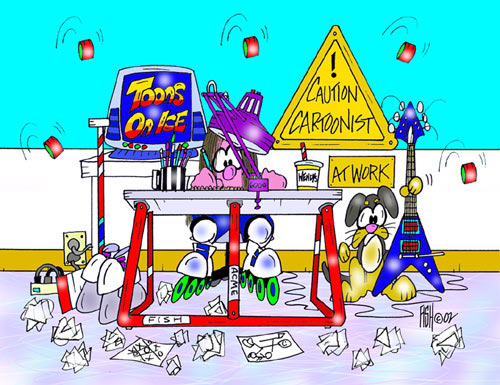 TOONS ON-ICE Hockey is an original sports property created by Cartoon Artist Michael Fischer to show the humerous side of the sport he's loved since childhood, NHL Ice Hockey! Michael Fischer's cartoon journey began in his hometown of St. Louis Missouri when he was born January 9th, 1963 wearing ice skates and a guitar. In retrospect, he started his art career pushing a crayola crayon watching Underdog and Looney Tunes on TV religiously every morning at 6am .

Mike began his love for NHL Hockey in 1969 after his Uncle Gene flipped on a St. Louis Blues game on television. Michael's passion for hockey was born watching hero's such as Gary Unger, the late Bob Gassoff, and the infamous Plager Brothers. There were more characters in The NHL in the 1970's than in the classic movie Slap Shot. Over two decades later, Mike created TOONS ON-ICE Comics in the late 1980's inspired by the killer hockey buzz Wayne Gretzky had spread across the west coast when he joined The Los Angeles Kings. In a matter of time, Hockey Cartoons took over Mike's career and his onslaught of Hockey Humor began!

TOONS ON-ICE Hockey Clientele include CAA Sports, IMG Hockey, The Los Angeles Kings, Anaheim Mighty Ducks, Colorado Avalanche, St. Louis Blues, Florida Panthers, Incredibale Ice, San Jose Sharks, Chicago Wolves, Hockey Hut, Slap Shot Golf Tournament and TOONS ON-ICE has been featured in such publications as Hockey Player Magazine, The Hockey News, USA Hockey Magazine, John Buccigross and Barry Melrose ESPN NHL 2Night Hockey, ESPN Announcer and 3 time Stanley Cup Champ Bill Clement, Game Worn.com, Turcotte Hockey School, Rob Barletta's Elite Hockey School, Laura Stamm Power Skating, Guelph Storm Hockey, and Little Caesers Youth Hockey.

Got Fundraiser? TOONS ON-ICE Hockey annual Holiday Card Fundraiser Program is the number one Youth Fundraiser on the planet in North America! TOONS ON-ICE Christmas Cards have raised thousands of dollars for such leagues as New Prague Youth Hockey, Hetland Youth Hockey, Dallas Junior Hockey, and San Jose Junior Sharks Youth Hockey. Hockey Moms and Booster Clubs are welcome to sign up for this years 2009 Hockey Holiday Program and begin raising money for your team! Look for new info this summer ready to sell by Fall 2009!

It's Mike's dream as one of the worlds only Hockey Cartoon Artists to turn every Walmart into an Ice Hockey Rink so you can bodycheck some gomer into the Jeff Gordon Beer Cooler Display in aisle twelve!



Like all gifted artists in search of, with a little luck and the right pioneer contact, who knows. Maybe one day you'll see an animated version of TOONS ON-ICE Hockey on the big screen and you can say "Hey, I remember when that dude took the time to e-mail me... Now he's Licensed by Warner Brothers flying first class to his private rink island on Hooters Air with his dogs." In memory of Coach Dad of course!