THE FAN DEPT
Listen up Puckheads!!! To have your picture featured on FAN DEPT here's what you need to do. First clown a ref (just kidding). Send your favorite family hockey photo ( no posers please ) of your kids, nephews, pet, mom, dad, grandma, grampa scorekeeper, local zamboni driver, etc. Please make sure your submission contains some sort of hockey theme. No others will be considered. Silly teammates are welcome. Hockey Moms, and Super Models are extremely encouraged to apply. Put on your favorite team jersey and don't forget to Pucker Up for the Camera!

Please include your name, town, city and favorite team. Along with a comment about TOONS ON ICE Hockey. Please keep website comments short and sweet.

Jodii Sanbergs Nephews - TORONTO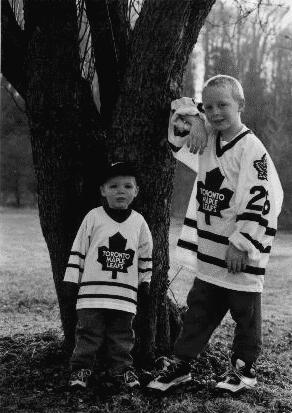 Favorite Team - Toronto Maple Leafs
"It was a pleasant surprise coming across this website".
Allen and Barbara Beck
Steve, Beth and John Carrigan
Peter, Nancy, Michael, Willie, and Patrick Pope - WORC, MA.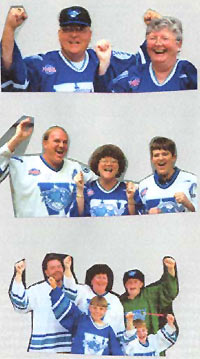 Favorite Team - Worcester Ice Cats
"The cartoons are a BIG hit - We love our hockey"!!!
Nicholas Hawkins - Kenai, ALASKA
( State jr hockey champ )
Favorite Player - Dominik Hasek
"Toons On Ice is more fun than School"!

Mark and Julie Anderson